NEXT 24 HOURS: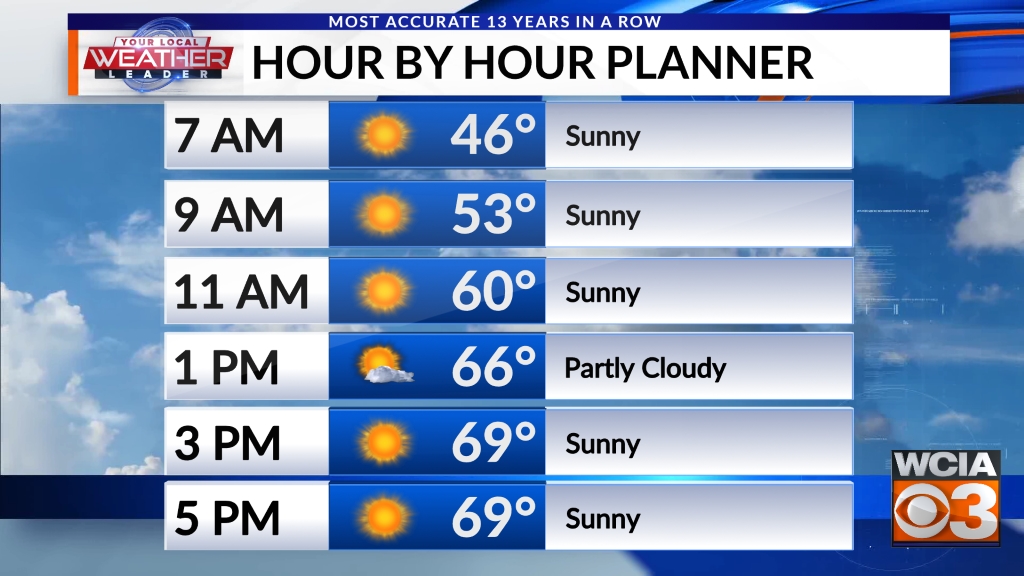 CURRENT WEATHER ALERTS:
LOCAL FORECAST AHEAD:
Thursday will be a quiet day in Central Illinois with some sunshine and highs in the 60s Best day in the forecast for this week. Attention is focused on Friday for severe weather in the area.
As of THURSDAY MORNING, a broad ENHANCED (3/5) risk for severe across much of our area. This will be for Friday into Friday Night.
This is part of a broad area of severe weather from the Mid South to the Upper Mississippi River Valley that could bring large hail, damaging winds and even tornadoes. The MODERATE (4/5) is slated for out west into northwestern Illinois and eastern Iowa.
As far as our local impacts go, we think mainly in the WCIA 3 coverage area, the most impactful weather will come from straight-line winds. Some large hail and a few spin up tornadoes on that last line of storms can't be ruled out.
Some questions we continue to focus on includes the instability that is forecast, as morning rain showers and storms could help limit this some. In addition, the best energy might be a bit to our west. Still, even with the ingredients not being the most optimal overhead doesn't mean we won't see severe weather. We still expect some in our region, but the greatest impacts may be more west of us as model data shows isolated supercell development possible before becoming a line of storms. Those lines of storms will be the main event for Friday.
Here's a look at FutureTrack and what it can bring for our area. There could be two or three rounds of storms, though the main event is expected to be the last round Friday PM.
We've decided to break down the impacts even more for your hourly to help you plan your day. Some hail is possible in the morning, and we'll have to watch how the early afternoon evolves before the main event arrives in the evening.
Here's a look at timing for the main line of storms Friday evening.
As far as specific threats go, the graphics below break them down to help show where the greatest concern is.
We also sought to combine all the threats into one timeline to try and illustrate the timing and multi-faceted threats this storm brings our area. We'll keep you updated.
Here's a look at what we expect as far as who gets impacted by what. Most of us will see rounds of showers and storms with some gusty winds, and additionally non-thunderstorm wind gusts are expected Friday into Saturday. The highest impactful severe weather will be limited to a smaller area, that remains to be seen where.
Outside of storms winds will increase to 40+ mph by Friday. Strong winds still remain a threat on the backside of a cold front for Saturday. Some gusts could be greater than 55 mph between 6p Friday and 9a Saturday.
A dry weekend, but storm chances return as early as late Monday through Tuesday. Could be another round of severe weather for us. This time further south has an early ENHANCED risk. Still not clear that far out. We will still monitor this situation as well.
Keep up to date on forecasts, alerts, and current conditions by downloading our mobile app.
7 DAY FORECAST:
Below you'll see the chance for precipitation both during the day and at night. In addition, we've got temperatures posted below. Get more from the 7 Day Forecast on the WCIA 3 Map Room or on the 7 Day Forecast Video.
DROUGHT MONITOR:
See the latest drought monitor showing drought conditions in Central Illinois below. The drought monitor is released every Thursday morning and includes rainfall amounts from the Tuesday to Tuesday 7 day window immediately before the drought monitor is released.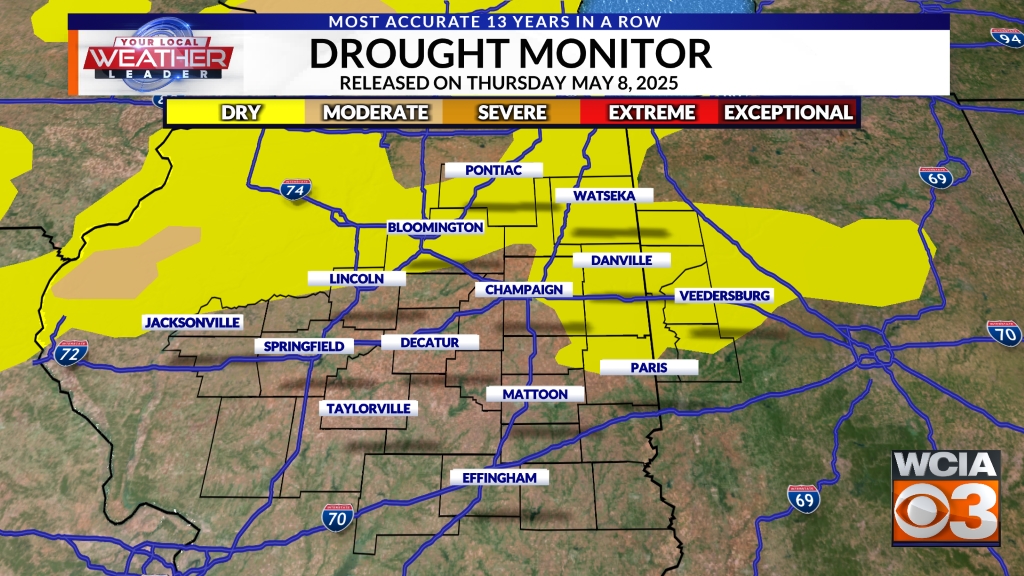 LONG-TERM FORECAST:
Here are the latest extended outlooks for the 8-14 day temperature and precipitation outlooks. These outlooks are issued daily and provide insight into the confidence in seeing temperatures and precipitation above or below normal beyond our 7 day forecast.