NEXT 24 HOURS: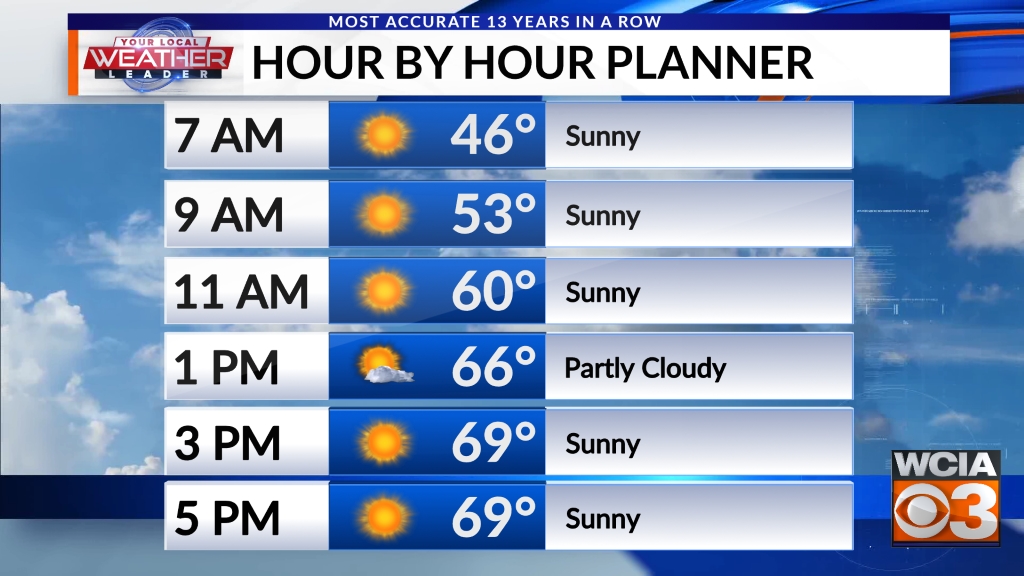 CURRENT WEATHER ALERTS:
LOCAL FORECAST AHEAD:
Yet another day of sunny skies and high temperatures well above average is in store today, as we will find our way into the upper 80s once again. We could flirt with near 90 in some spots.
We have a ridging pattern that will keep it toasty until tomorrow, as it will feel almost like July as opposed to October. We will see that pattern break down by the middle of the week, and that will allow for a pretty drastic change in how it feels around here.
In fact, once that pattern does break down, it is likely that we will see temperatures crash back down and wind up well below average. Some places may see a 25 degree difference in high temperatures in the span of just a couple of days thanks to a big Fall cold front Wednesday & Thursday.
We will near some record highs here in the next few days, yet we will also end up seeing temperatures fall below the average line by the end of the week!
According to the current forecast, we could briefly touch 90 on today during the day and then dip down to 39 Saturday Night… a 50 degree difference!
Rain chances will be minimal this week with high pressure in place. Look for the breakdown in the pattern mentioned above to finally bring back rain chances by late Wednesday night through Thursday. There might even be a stray shower among the partly cloudy skies on Friday.
Don't forget to download the WCIA 3 Weather App for updates anytime, anywhere.
7 DAY FORECAST:
Here is your 7 day forecast updated several times a day. You also can see the 7 day forecast and more on the WCIA 3 Weather App and on the WCIA 3 Weather Map Room.
DROUGHT MONITOR:
See the latest drought monitor showing drought conditions in Central Illinois below. The drought monitor is released every Thursday morning and includes rainfall amounts from the Tuesday to Tuesday 7 day window immediately before the drought monitor is released.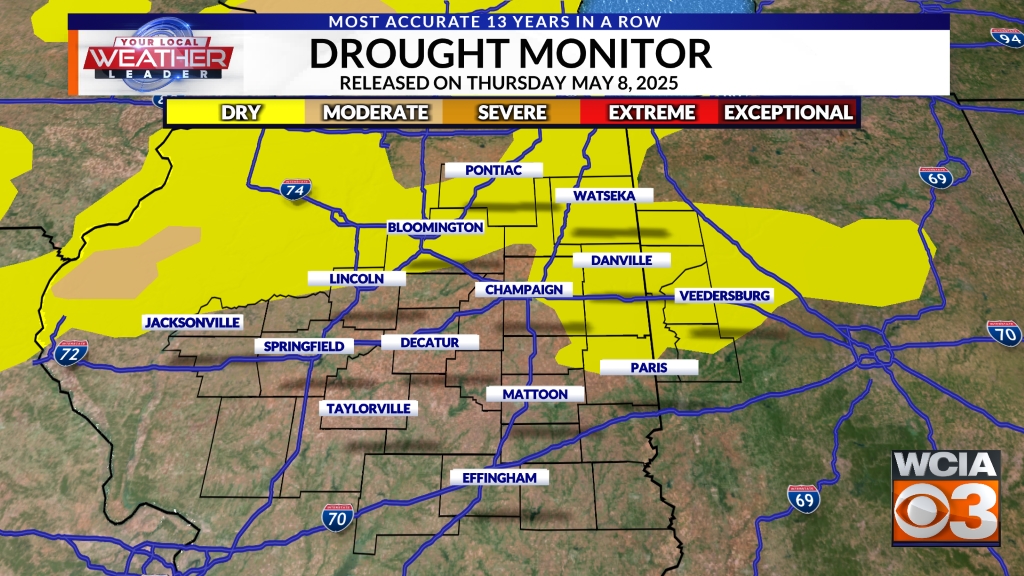 LONG-TERM FORECAST:
Here are the latest extended outlooks for the 8-14 day temperature and precipitation outlooks. These outlooks are issued daily and provide insight into the confidence in seeing temperatures and precipitation above or below normal beyond our 7 day forecast.