NEXT 24 HOURS: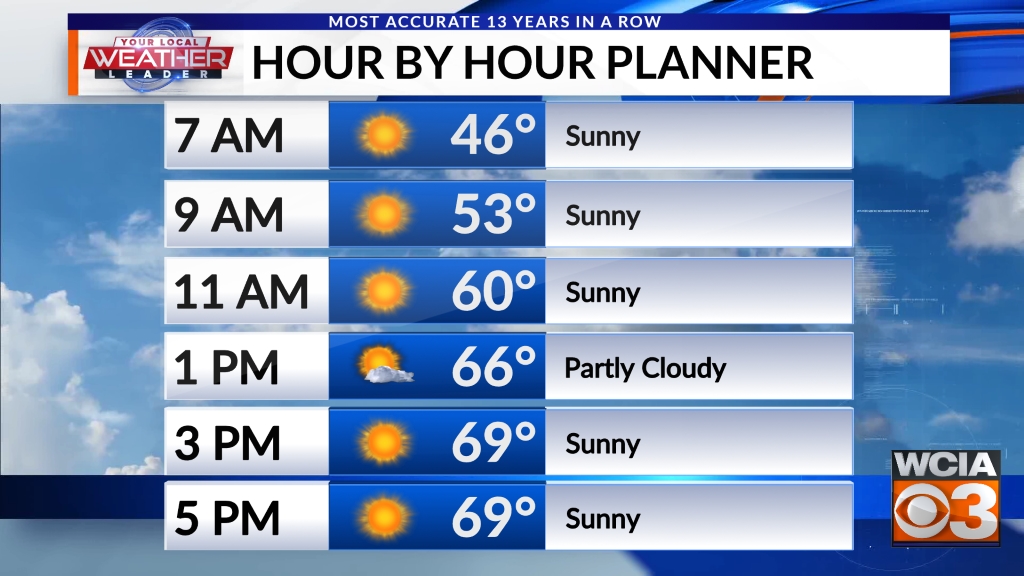 CURRENT WEATHER ALERTS:
LOCAL FORECAST AHEAD:
Cloud cover kept things cold throughout the day today, but as the nighttime hours begin, that cloud cover should clear out, allowing the ground to cool very rapidly. Lows will settle somewhere between the mid and lower 20s, with wind chill values in the teens to start things off Monday Morning.
Despite Sunday being a winter-like day, we return to above-average temperatures immediately Monday with highs back up into the middle 40s in some places with lots of sunshine.
Friday Night's showers and storms did not bring us a whole lot in the way of rainfall, but it appears that what we got will be the last we see for at least a week. Right now, there are no chances for rain greater than 10% in the 7-Day Forecast.
There will, however, be plenty of sunshine in the forecast for much of the upcoming week. According to the solar forecast, each of the next several days should feature some nice, clear skies!
Temperatures will be several degrees above average for the entirety of this coming week. It is entirely possible to see highs return to the 50s at some point next weekend as well.
Don't forget to download the WCIA 3 Weather App for updates anytime, anywhere.
7 DAY FORECAST:
Here is your 7 day forecast updated several times a day. You also can see the 7 day forecast and more on the WCIA 3 Weather App and on the WCIA 3 Weather Map Room.
DROUGHT MONITOR:
See the latest drought monitor showing drought conditions in Central Illinois below. The drought monitor is released every Thursday morning and includes rainfall amounts from the Tuesday to Tuesday 7 day window immediately before the drought monitor is released.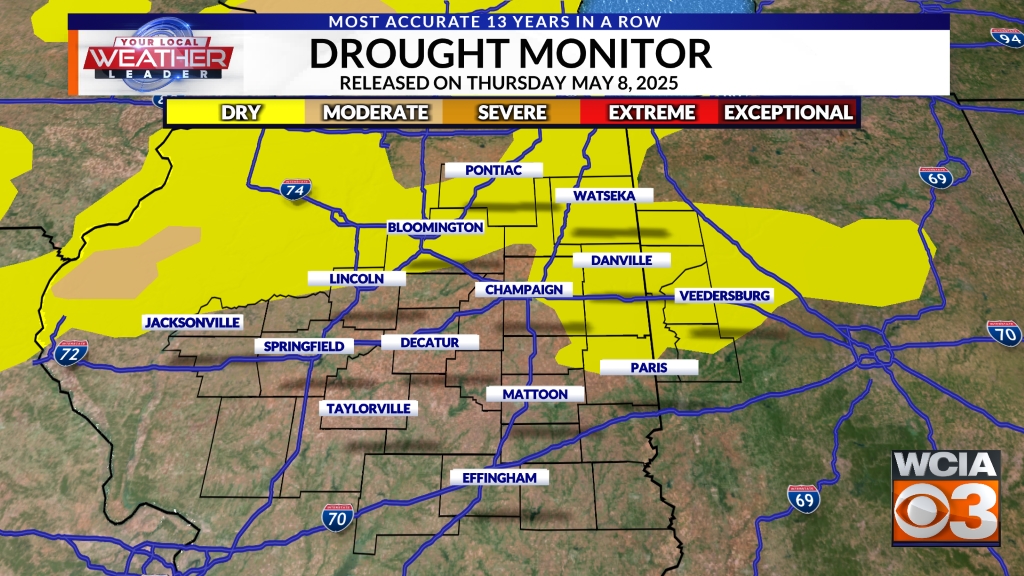 LONG-TERM FORECAST:
Here are the latest extended outlooks for the 8-14 day temperature and precipitation outlooks. These outlooks are issued daily and provide insight into the confidence in seeing temperatures and precipitation above or below normal beyond our 7 day forecast.