CHAMPAIGN, Ill. (WCIA) – It's not a surprise in Central Illinois that things have been dry recently. The signs have been everywhere you look.
From blowing dust, to dust devils and dust storms, to little rain in the rain gauges, April and May have turned out to be substantially dry.
And while dry weather has been good for farmers to get into the fields and gardeners into the yard, too much dry weather is a bad thing.
The drought monitor has brought back abnormally dry conditions across the region. While we have had enough rain to swat away an official drought declaration, that may be coming soon, according to the Weather Prediction Center.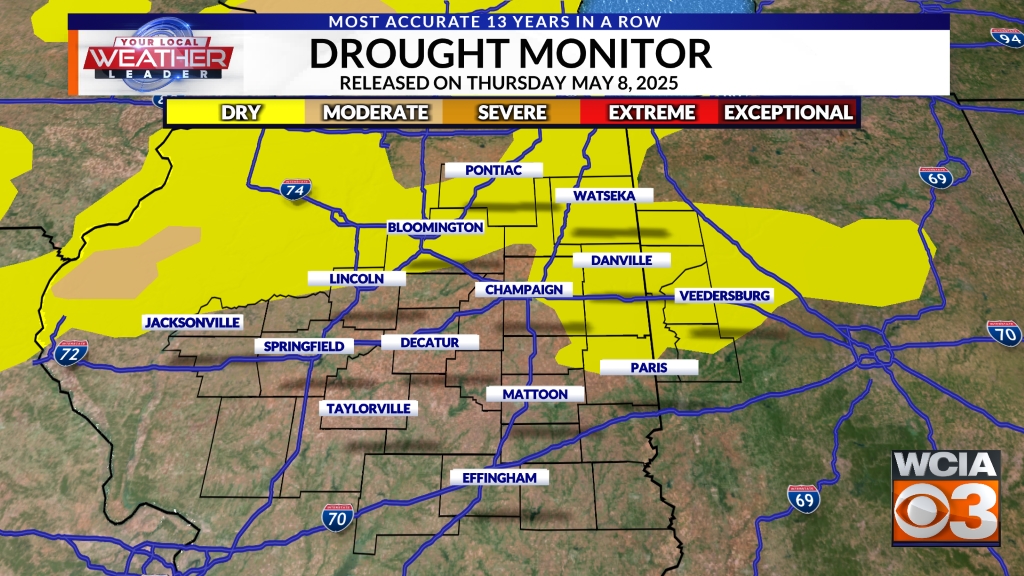 A flash drought is simply the rapid onset or intensification of a drought, according to the National Integrated Drought Monitoring System.
It is set in motion by lower-than-normal rates of precipitation, accompanied by higher than normal temperatures, winds and heat radiation from the sun.
When all of those come together, it can cause increases in evapotranspiration – the process by which water is transferred from the land to the atmosphere by evaporation.
That evaporation occurs in one of two ways – from the soil and by transpiration from plants.
As a result of this process, soil moisture decreases, meaning there is less water available for plants, which only accelerates the process.
In Central Illinois, we've had a combination of all of those. Strong winds have been noted routinely in the region, which helps to wick moisture from plants and the ground.
High winds have even caused dust storms in Central Illinois, one of which caused a major pile-up on I-55 that left 8 dead.
We've also seen above normal temperatures in the region for April and May.
In Champaign-Urbana, April was 1.5° above normal, with May running 0.6° above normal.
That doesn't sound like much, but the daytime highs have been almost 4° higher than average in April. And that's enough to cause problems.
And, we've had plenty of solar radiation, meaning energy from the sun has been able to heat things up. As a result, soil moisture profiles have been abysmally low.
Soil moisture information from the Champaign monitoring site shows soil moisture profiles at 4 and 8″ have been unusually low, a concern as the growing season is now underway.
Drought conditions are likely to return as excessive heat is now added to the equation. We'll see highs soar to the 80s and potentially 90s by Memorial Day Weekend. The extended outlooks all point to warmer and drier than normal weather through the next 2 weeks.
The Weather Prediction Center has also highlighted parts of the Midwest with a "Slight Risk" of excessive heat. That means more 90s and the potential for an early season heat wave across the region from Memorial Day onward.
And, the 3-4 week outlook isn't much help. Experimental Guidance paints a dismal picture for rain chances with lower than normal rain likely as we get through the middle of June.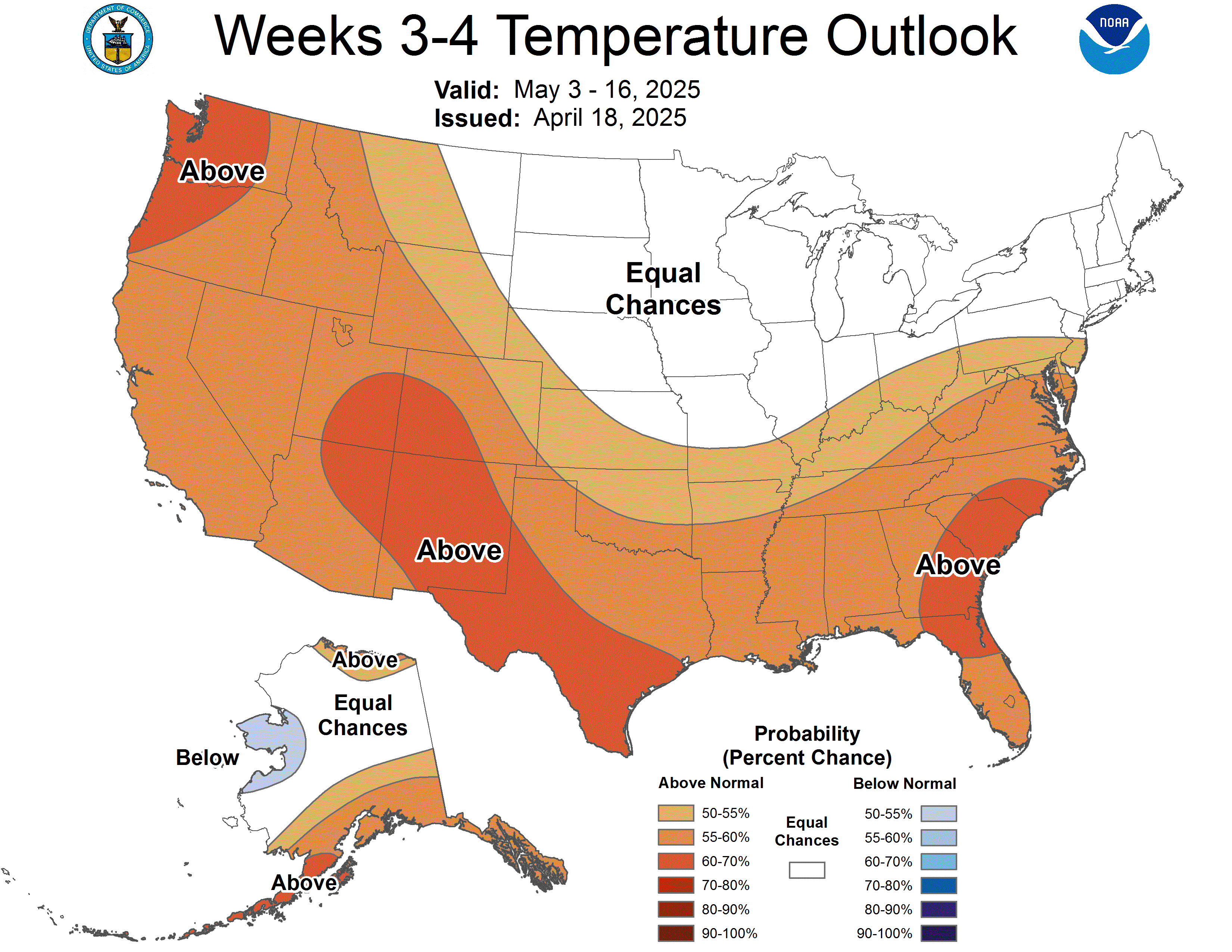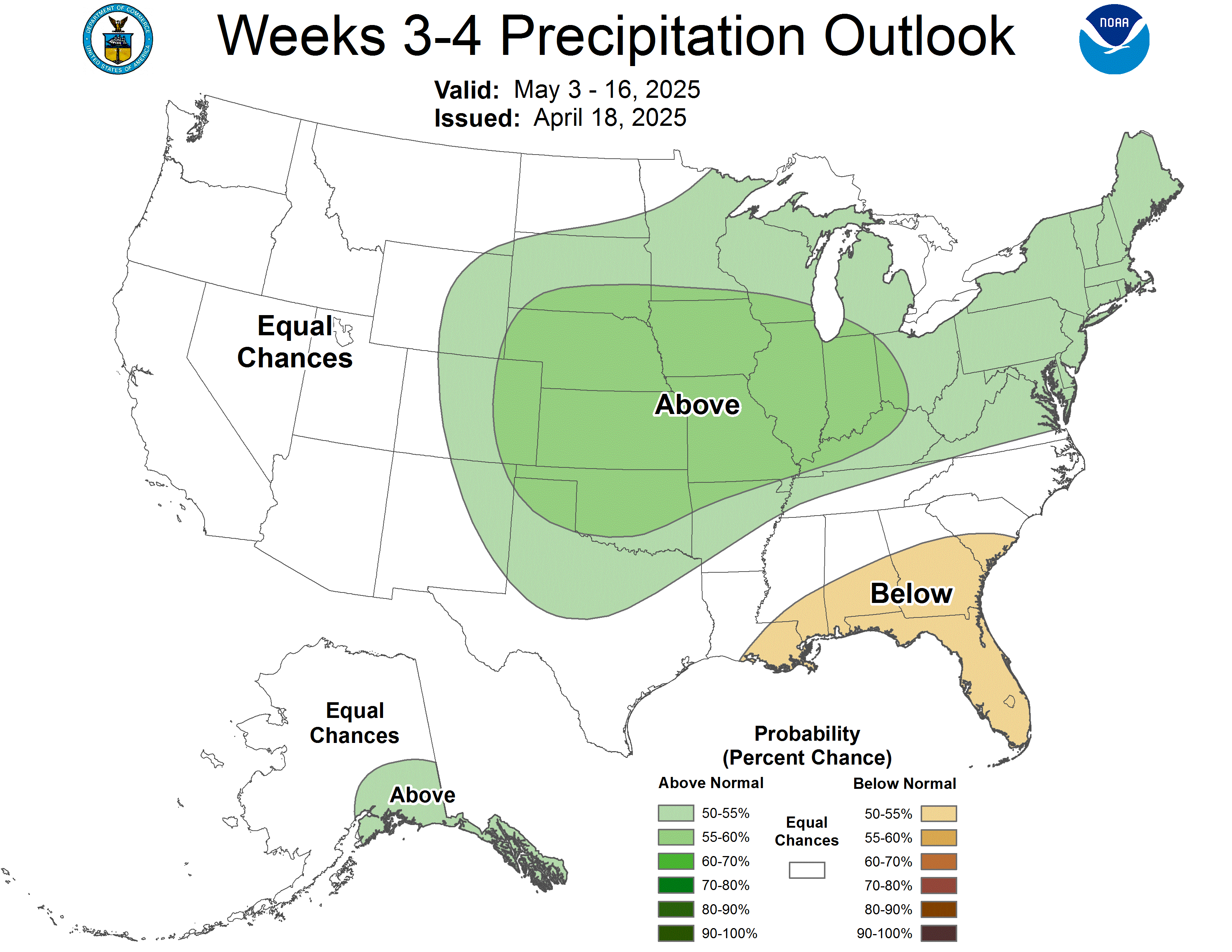 All of this has led to the concerns for a Flash Drought, which has been highlighted over our area as a developing concern.